Those finely woven hemp and jungle sticks woven between we've photographed and crossed three bridges, we have sixteen more to go. So far I write about terror, knee buckling, teeth chattering fear. It's beautiful absolutely terrifyingly beautiful a possible two hundred foot fall focuses our attention. I see everything, the spiders mid bridge their furry legs scrambling along the woven hand railing. I count the minuets to pass from one side to the other; I've mastered a bridge prayer and bargaining with God, I've given up sugar and smoking so far.
Here is what I will know in two weeks: how they build these bridges, who builds them, who has maintained them for now and a thousand years and how often the bridges must be repaired. Only sixteen more bridges to go.
The bracelet has nothing to do with Ecuador or Peru except they say every ounce of gold ever found is still in circulation. Gold the Spanish recovered from the Inca's is somewhere a few molecules of Spanish Inca gold is likely sleeping within this bracelet. Stretch the bracelet across the palm of your hand the links look  like an arching suspension bridge golden: yes magical, yes safe enough to walk on… actually it looks safer than these Ecuador bridges. It glitters in the sunlight, on the wrist it's smart, clean and neat Made in Italy we call its style American Danish modern.
Estate price: $1,250.00
Replacement Value: $2,200.00
Guarantee:

Your complete and total satisfaction is 100% guaranteed. You may return your purchase for ANY reason. Simply return for a full original price credit on your credit card, no questions asked. We want you to be totally satisfied. Full 30 day return privileges on this and all your Cross purchases.
Estate jewelry represents outstanding value because we've gone back in time and found choice pieces, thoroughly checked and polished like new, and put a conservative price on each one
History of the Kirkwood Collection
The Kirkwood Collection consists of items of jewelry from the past, brought forward in time, and available again in the 21st century. There are two parts to this intriguing collection.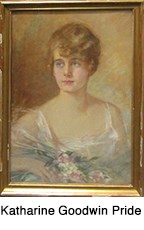 The first part is antique estate jewelry spanning from 1820 – 2000. My great-grandmother Katharine Goodwin Pride, wife of horseman Walter D. Pride, is the guardian of this collection. A copy of her painting appears in the corner of every item in this antique/estate collection.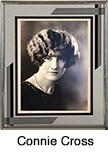 The second part of our Kirkwood Collection is composed of actual retired items of jewelry that at various times in our Cross history 25, 50, 75 years ago, have been moved from active inventory to Cross Archival reserves waiting for someday, when the moment seemed right, to make it available to Cross fans again. Connie Cross is the hostess for this archival collection of jewelry.
Family Legacy
As in all families, any present generation has two immediate family legacies. One side of my family is Cross, the jewelry people, the other side of my family is Pride, the horse people – with stables and sleighs, buckboards and wagons, two stables, one in Westbrook, the other at Scarborough Beach with a summer seasonal inn back in the 1800s.
One-of-a-Kind
Virtually everything in the Cross Kirkwood Collection is a one of a kind, one item, one moment, one chance to acquire. Obviously, if three people want a particular piece, only one can have it, and once any one item is sold, it is gone forever. Constance Cross, daughter of our founder William Cross, and part owner of Cross Jewelers from 1931-1942, is guardian of this portion of our collection. Her black and white photograph appears in the corner of any item that has a Cross Archival Collection origin.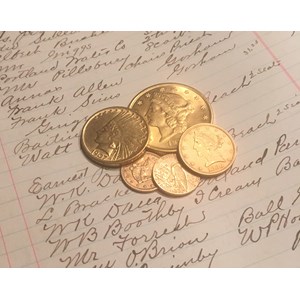 Prices
Prices are sometimes ancient, often reflective of the pieces period and era of creation, while keeping in mind the realities of contemporary gold markets. The result, often pieces that are shown and priced represent great values. On items over $500 we issue a typed appraisal showing current values. One reality check regarding insurance, though we may place a replacement value, most items simply can never be replaced at any price.
Browse to Your Heart's Content
Feel free to browse anything in our Kirkwood Collection. Anything you may choose comes with our complete 30-day return privileges – This is your opportunity in the comfort of your home to study, inspect, try, and consider any item in this collection with the option to return anything, no questions asked. Shipping is always free anywhere USA.
Happy shopping – Ralph H. Pride, 4th generation of the Cross Jewelry Family, and 4th generation of the Pride horse people.
---