Crew
And the Captain
Of course, there's the captain. The guy who is watching everything, taking it all in, ready to shout the command to turn left or go to port. The captain is vital. The crew is essential. They are hands that raise the sails. Hands that pull the anchor. Hands and eyes that are watching the engine room, food, water, the list for the crew is endless.
Crew the ring is magnificently well crafted. The day Keith introduced the ring to us he said, "You're going to love this one. It's got everything you're looking for: big gem center, big splash of color, then lines of gold sweeping up and in, on the diagonal sides riding higher, wrapping around the north and south edges of the gem, holding, securing the gem in place like well-secured lines on a ship." Then he said, "It's got two accent diamonds, small, brilliant, like light reflecting off a chrome cleat, like sparkly light on the water. The gem diamonds are not big but are essential because their presence draws the eye, pulls you in, and also says there's something really important here."
He continued," What we both like in any ring design is that it is low profile, glove-friendly, super comfortable, and nestles nicely on the hand. She's going to have the ring for decades to come, of course it should be comfortable as well as beautiful."
Keith was holding back. He hadn't shown me the ring yet. I could sense his enthusiasm and because of his track record, I was eager to see it too. He handed me the ring. I was speechless. It was the essence of simplicity. I'd never seen anything like it. It's not often I see something that is so fundamentally pure and yet no one has ever thought of it before. Part of the magic of this design is the two diamonds tucked in on the inside edges of the big colored gem. They are burnish-set into the lower and upper gold sidelines. I've never seen this done before. It creates simple, smooth, clean lines. The two little diamonds simply belong there.
I would say if there were ten rings in the world every woman should have as a right-hand ring, Crew is one of the ten because it's fundamentally so pure and beautiful.
Crew Racing
A Long Time Ago
I took a new girlfriend to Boston and Cambridge and Harvard. She was an English teacher; I was a jeweler. I told her I was going to check Harvard out as a possible university for children one day. I thought she would be impressed. She was a good sport. I had prepared a picnic lunch, Amato's Italian sandwiches, and a fine French wine with real wine glasses. We had our picnic on the Boston side of the Charles and I saw crew racing for the first time.
After lunch, we walked over to Cambridge and Harvard. No, it didn't turn out to be a long-term relationship. And yes, one of my two daughters spent three years in Cambridge and went to a college which had a curious agreement with Harvard. That's as close as we ever got to Harvard University.
I believe Crew West is one of the best ring designs in America today. It's beautiful on the hand. All three gems sit low, close to the finger for ease of wear. The surfaces of the ring are smooth to the touch. The sweeps and curves are graceful, displaying the gems elegantly.
Crew boats are long, narrow racing shells. The crew of eight rowers sit low to the water. At the stern of the boat is the Coxswain. He or she steers, calls the race plan, and is the constant voice of reassurance to the team.
Crew West has a wave of gold that sweeps in from the left and right, capturing and holding the gem at bow and stern. We make crew with a colored gem center set with two diamonds left and right that represent the oars and sparkly light on the water.
About the Trade Wind Collection:
Where does inspiration come from? Where do the creative sparks for design begin? For Cross' new Trade Wind Jewelry Collection, we find ourselves drawn into the story of Captain John Henry Drew, from Gardiner, Maine. Born in 1834, he grew up the son of a Ship's Carver, and went to sea at the age of 15, eventually becoming Captain of a series of clipper ships, and traveling from New York to China and back home, when that voyage took more than seventeen months.
Instead of carving or knotting or other hobbies that were characteristic of sailors, this mostly self-educated man read books, memorized details from newspapers, and wrote about his journey—his literal and his inner journey. His hand-written and personally illustrated journals tell us of his longing for Maine, for his family, and for "making something of himself". He is very much like you and me, and it makes his story that much more compelling. He savors apples from home, as tasting better than apples from anywhere else. He imagines the scene he might see looking in the window at home, where his family sits, and he chastises himself for not getting more done at home when he was there.
The jewelry in our Trade Wind Collection is made by his great-great-great grandson, Keith. This young man went to sea as well, at age 18. As part of his service to the US Navy, his travels took him to many of the same places his great-great-great grandfather's clipper ships visited. Keith also had a hobby unconventional for sailors— he had a fascination for gems and he studied gemology. He studied so that when his service was completed, he could become a jeweler. As Keith traveled the world, he collected exquisite gems, and after leaving the service and returning home, he mastered the art of fine jewelry making.
It is now decades later. We met Keith for the first time in March, 2014. We were impressed with his jewelry, and as we talked further, discovered he had a clipper ship sea captain ancestor and became intrigued with the parallels of his journey in life with that of his sea captain forebear.
The parallels in the two stories are expressed in the jewelry itself—the exotic colors, the flow of the designs, the attention to detail which is something passed down in this family—whether it is to protect the ship, its cargo and its crew, or to create a design that will last and protect its valuable gems, giving the wearer the same pleasure we experience when a ship at full sail goes by. You can't help but stop and exclaim, "Isn't that beautiful?"
We were hooked by this story, and by the jewelry. We think you will be too. In fact, we're posting pages from Captain Drew's journals from the Voyage of the Franklin in 1868. Take a few minutes to join in the journey, and think of those you love most, and rejoice if they are right there with you.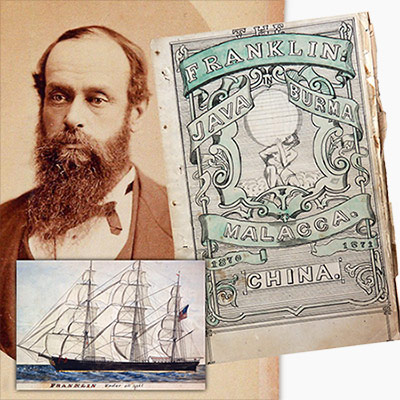 Read the Captain's
Clipper Ship Journal Entries