Kite-Wind, Hope-Joy
Red Garnet & Diamond Necklace
From Cross's Clipper Ship Trade Wind Collection
My grandfather Lin Cross had a beach house with a two-car garage. The left wall of his garage was covered with traditional triangular kites, all colors. He also had 3 fishing reels and poles because he would release his kites on monofilament lines. The three fishing reels had three different weights of line for differing wind strengths.
My grandfather Cross was a serious, focused jeweler and was a kid at heart. He loved what he could do with a kite in the wind. To him it was pure joy. There was the swift lift, the ascent, and with the pole he could play the line out, run the kite to the left, run it to the right, make it dart, dive and soar. He possessed remarkable maneuverability. He could get the kite so far out on the line, it was just a speck in the blue sky. My grandmother would come to the railing and call "supper" and he would reel it in like he was catching a big tuna in a fishing tournament.
The Gems
Rhodolite Garnet – One of the great delights of gemology is the discovery of a new gem or discovery of a new location for an important existing gem. Years ago rhodolite seemed rare. It was an occasional gem that appeared in jewelry from time to time. It was always a surprise because they so seldom showed up. Then garnet was discovered in East Africa, and a particular variety of rhodolite – with a vibrant pink color that welcomes light to dance through its interior and bursts forth in sparkling brilliance and scintillation. Rhodolite was suddenly available. We love African rhodolite. Garnet has a high refractive index which means extra sparkly, if cut nicely. This is a superb specimen of rhodolite garnet. Hardness 7-7.5.
Diamonds – world sourced, cut in Belgium. Well-cut with a full complement of 58 facets, rating a 3 on our quality cut scale. Nice white color, beautifully matched. Hardness 10, which means this is the hardest, most durable gem in the universe…and because of its high white color, high clarity, and superlative cutting – it's super brilliant.


About the Trade Wind Collection:
Where does inspiration come from? Where do the creative sparks for design begin? For Cross' new Trade Wind Jewelry Collection, we find ourselves drawn into the story of Captain John Henry Drew, from Gardiner, Maine. Born in 1834, he grew up the son of a Ship's Carver, and went to sea at the age of 15, eventually becoming Captain of a series of clipper ships, and traveling from New York to China and back home, when that voyage took more than seventeen months.
Instead of carving or knotting or other hobbies that were characteristic of sailors, this mostly self-educated man read books, memorized details from newspapers, and wrote about his journey—his literal and his inner journey. His hand-written and personally illustrated journals tell us of his longing for Maine, for his family, and for "making something of himself". He is very much like you and me, and it makes his story that much more compelling. He savors apples from home, as tasting better than apples from anywhere else. He imagines the scene he might see looking in the window at home, where his family sits, and he chastises himself for not getting more done at home when he was there.
The jewelry in our Trade Wind Collection is made by his great-great-great grandson, Keith. This young man went to sea as well, at age 18. As part of his service to the US Navy, his travels took him to many of the same places his great-great-great grandfather's clipper ships visited. Keith also had a hobby unconventional for sailors— he had a fascination for gems and he studied gemology. He studied so that when his service was completed, he could become a jeweler. As Keith traveled the world, he collected exquisite gems, and after leaving the service and returning home, he mastered the art of fine jewelry making.
It is now decades later. We met Keith for the first time in March, 2014. We were impressed with his jewelry, and as we talked further, discovered he had a clipper ship sea captain ancestor and became intrigued with the parallels of his journey in life with that of his sea captain forebear.
The parallels in the two stories are expressed in the jewelry itself—the exotic colors, the flow of the designs, the attention to detail which is something passed down in this family—whether it is to protect the ship, its cargo and its crew, or to create a design that will last and protect its valuable gems, giving the wearer the same pleasure we experience when a ship at full sail goes by. You can't help but stop and exclaim, "Isn't that beautiful?"
We were hooked by this story, and by the jewelry. We think you will be too. In fact, we're posting pages from Captain Drew's journals from the Voyage of the Franklin in 1868. Take a few minutes to join in the journey, and think of those you love most, and rejoice if they are right there with you.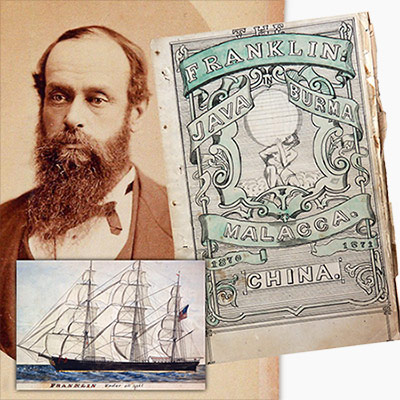 Read the Captain's
Clipper Ship Journal Entries