Returning Tide
Peridot Necklace
From Cross's Clipper Ship Trade Wind Collection
Returning Tide
Our family has a summer cottage at Higgins Beach in Scarborough Maine. Four generations of our family have returned to the beach for nearly 100 years. Each year in June I prep the land and cottage for summer. I work hard. I work steady until the tide enters the tidal creek where our cottage is located, and then I sit and watch. It doesn't matter what time of day the tide comes in, its arrival is a matter of importance I never tire of. There is something so compelling about the rising tide…the certainty, the predictability, its strength, the moon is pushing pulling the water to shore and although I can't see the invisible force its power is obvious. I love to watch this surge of water that returns to flood the land twice a day. Water as it flows in and particularly around the edges of docks, creates flow lines. I see the flow lines in this pendant, which we call the Returning Tide.
I can become mesmerized by certain simple things. Flow lines, one of nature's mysteries, stop me every time. On the farm I grew up on, we had a dam with a ¼ acre pond, and a sluice to carry water over the dam. In October of every year, we had a lot of water flowing in and a lot of water flowing over the dam. The surface would be smooth across the pond, but as water neared the opening to the sluice it would begin to curve and curl. I loved the flow lines etched into the quickened water. Our Returning Tide ring, earrings, and pendant capture this mystery of time and motion.
This Returning Tide piece is from the many hours spent at my freshwater pond watching flow lines, and then for the last 50 years me stopping work to go down to the dock to watch the tide come in.
About the Trade Wind Collection:
Where does inspiration come from? Where do the creative sparks for design begin? For Cross' new Trade Wind Jewelry Collection, we find ourselves drawn into the story of Captain John Henry Drew, from Gardiner, Maine. Born in 1834, he grew up the son of a Ship's Carver, and went to sea at the age of 15, eventually becoming Captain of a series of clipper ships, and traveling from New York to China and back home, when that voyage took more than seventeen months.
Instead of carving or knotting or other hobbies that were characteristic of sailors, this mostly self-educated man read books, memorized details from newspapers, and wrote about his journey—his literal and his inner journey. His hand-written and personally illustrated journals tell us of his longing for Maine, for his family, and for "making something of himself". He is very much like you and me, and it makes his story that much more compelling. He savors apples from home, as tasting better than apples from anywhere else. He imagines the scene he might see looking in the window at home, where his family sits, and he chastises himself for not getting more done at home when he was there.
The jewelry in our Trade Wind Collection is made by his great-great-great grandson, Keith. This young man went to sea as well, at age 18. As part of his service to the US Navy, his travels took him to many of the same places his great-great-great grandfather's clipper ships visited. Keith also had a hobby unconventional for sailors— he had a fascination for gems and he studied gemology. He studied so that when his service was completed, he could become a jeweler. As Keith traveled the world, he collected exquisite gems, and after leaving the service and returning home, he mastered the art of fine jewelry making.
It is now decades later. We met Keith for the first time in March, 2014. We were impressed with his jewelry, and as we talked further, discovered he had a clipper ship sea captain ancestor and became intrigued with the parallels of his journey in life with that of his sea captain forebear.
The parallels in the two stories are expressed in the jewelry itself—the exotic colors, the flow of the designs, the attention to detail which is something passed down in this family—whether it is to protect the ship, its cargo and its crew, or to create a design that will last and protect its valuable gems, giving the wearer the same pleasure we experience when a ship at full sail goes by. You can't help but stop and exclaim, "Isn't that beautiful?"
We were hooked by this story, and by the jewelry. We think you will be too. In fact, we're posting pages from Captain Drew's journals from the Voyage of the Franklin in 1868. Take a few minutes to join in the journey, and think of those you love most, and rejoice if they are right there with you.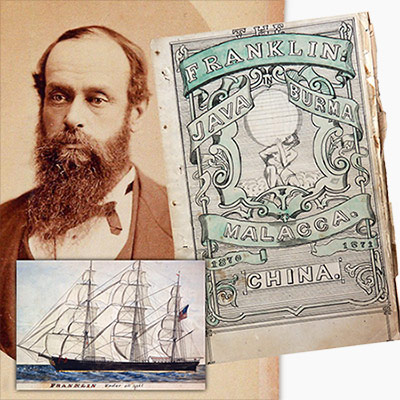 Read the Captain's
Clipper Ship Journal Entries