Returning Tide
 Pink Rhodolite Garnet Kayak Earrings
From Cross's Clipper Ship Trade Wind Collection
Returning Tide Kayak Earrings
Love the ocean
Love the glassy smooth early morning sea
Love the dip of the paddle
Love the sound of little waves on the hull
Love to watch water drip off the paddle, creating concentric widening circles dripping in a row
Love landing and waves carrying the boat to shore
Love the tight smooth efficiency of a small boat
I do love a good paddle on a morning sea
Our kayak earrings, set with any gem, are a delight. These earrings dangle lightly from click-in style lever backs. These earrings are not made for kayaking, they are made for the black tie and high heel musical performance you will attend at 8PM, later in the evening of your kayaking adventure.
Kayak the Returning Tide
In the 60 days of summer I bring my white row boat and my three kayaks, a blue, a yellow, and a green, to our summer cottage. The tide charts are magnetized to the refrigerator. I hold a peripheral awareness all summer of the time of high tide, the charts show exact times. Tides govern the day. They determine if we have lunch at high tide at our dock, or if we go rowing or kayaking before lunch. The time of high tide determines which distant shores I paddle to and how much navigable water I have before I must be back. It's a train station of sorts where the train departs 54 minutes later each day, to the rhythm of the tide. The regularity and predictability of high tide is good. The somewhat randomness of the 8 to 11 foot rise and fall and the rocks, and marsh tidal edges that can be cleared at the height of high tide, adds to the mystery of the invisible forces in the sky that are calling the shots at our place on the shore.
Returning Tide Style
Our family has a summer cottage at Higgins Beach in Scarborough Maine. Four generations of our family have returned to the beach for nearly 100 years. Each year in June I prep the land and cottage for summer. I work hard. I work steady until the tide enters the tidal creek where our cottage is located, and then I sit and watch. It doesn't matter what time of day the tide comes in, its arrival is a matter of importance I never tire of. There is something so compelling about the rising tide…the certainty, the predictability, its strength, the moon is pushing pulling the water to shore and although I can't see the invisible force its power is obvious. I love to watch this surge of water that returns to flood the land twice a day. Water as it flows in and particularly around the edges of docks, creates flow lines. I see the flow lines in these earrings, which we call the Returning Tide Kayak Earrings.
Wilderness Kayak
White Water Wild
The Adrenaline Rush
The forces of the river
You pivot upon a curling edge
Perfect symmetry back to front
You plunge into white water wild
Whirling through shadow and light
Pulling you in a rush of river to the sea
Yes we have used the Returning Tide pattern for our earring design, pressed it smooth like a lazy river. Between the falls sit brilliant golden garnet, East-West to capture water and sky.
Truth: I'm a salt water kayak-er. I went river rafting once, saw fresh water kayak-ers do standing waves. Yes, mesmerized, fascinated. Would I do it at 72? Never. I get it though – so the above is all imagined.
About the Trade Wind Collection:
Where does inspiration come from? Where do the creative sparks for design begin? For Cross' new Trade Wind Jewelry Collection, we find ourselves drawn into the story of Captain John Henry Drew, from Gardiner, Maine. Born in 1834, he grew up the son of a Ship's Carver, and went to sea at the age of 15, eventually becoming Captain of a series of clipper ships, and traveling from New York to China and back home, when that voyage took more than seventeen months.
Instead of carving or knotting or other hobbies that were characteristic of sailors, this mostly self-educated man read books, memorized details from newspapers, and wrote about his journey—his literal and his inner journey. His hand-written and personally illustrated journals tell us of his longing for Maine, for his family, and for "making something of himself". He is very much like you and me, and it makes his story that much more compelling. He savors apples from home, as tasting better than apples from anywhere else. He imagines the scene he might see looking in the window at home, where his family sits, and he chastises himself for not getting more done at home when he was there.
The jewelry in our Trade Wind Collection is made by his great-great-great grandson, Keith. This young man went to sea as well, at age 18. As part of his service to the US Navy, his travels took him to many of the same places his great-great-great grandfather's clipper ships visited. Keith also had a hobby unconventional for sailors— he had a fascination for gems and he studied gemology. He studied so that when his service was completed, he could become a jeweler. As Keith traveled the world, he collected exquisite gems, and after leaving the service and returning home, he mastered the art of fine jewelry making.
It is now decades later. We met Keith for the first time in March, 2014. We were impressed with his jewelry, and as we talked further, discovered he had a clipper ship sea captain ancestor and became intrigued with the parallels of his journey in life with that of his sea captain forebear.
The parallels in the two stories are expressed in the jewelry itself—the exotic colors, the flow of the designs, the attention to detail which is something passed down in this family—whether it is to protect the ship, its cargo and its crew, or to create a design that will last and protect its valuable gems, giving the wearer the same pleasure we experience when a ship at full sail goes by. You can't help but stop and exclaim, "Isn't that beautiful?"
We were hooked by this story, and by the jewelry. We think you will be too. In fact, we're posting pages from Captain Drew's journals from the Voyage of the Franklin in 1868. Take a few minutes to join in the journey, and think of those you love most, and rejoice if they are right there with you.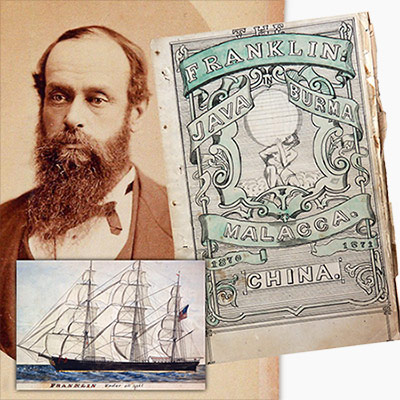 Read the Captain's
Clipper Ship Journal Entries