Sea Sense
Peachy Pink Spinel & Diamond Ring
From Cross's Clipper Ship Trade Wind Collection
An Awakening at Age 67
I was fascinated by their beauty. I was sitting in a small glass walled office overlooking a narrow cobblestoned ally in Chanthaburi, Thailand. Across the street was an old city, weathered wood building surrounded by many broad leaf banana trees. We posted on the glass door a handwritten sign on an 11×8.5 sheet of white paper, who we were, where we were from, and what we were looking for – primarily blue sapphires. What appeared before me was 1,000 carats of a gem I rarely see in America, cushion-cut spinel. Bright, brilliant pastel, exotic shades, and colors of gems I'd never seen before. I was in my 60s looking at mysterious gems of such colors and quality that they took me from my 60s back to being a teenager and seeing natural gems for the first time. What truly blew me away were the prices. They were so reasonable it felt like it was 50 years before and I had just stepped into a time warp, a gem time machine.
I became giddy and started selecting gems like I was in a penny candy store. Keith, a veteran overseas gem buyer and who was leading this gem buying expedition just let me go, as I sorted and chose. After an hour and amassing a serious quantity of gems Keith said, "Do you mind if I do a re-sort and I'll tell you what I think you should buy and what you should reject?" He did and pulled out 2/3 of what I had chosen. He said, "Now choose one at a time and I'll show you why you should pass." We did the jeweler thing with 10x magnification, studied cutting, inclusions, symmetry. Keith pointed out what I had missed in my excitement and I agreed with every call he had made. I ended up with 50 carats of exquisite exotic rare gems, rare colors. Keith on another day did a selection with a different group of spinel. He chose well. The gems selected by Keith appear from time to time in the jewelry he makes for us in the Clipper Ship Trade Wind Jewelry Collection.
A Word About Spinel
A word about spinel. Sapphire and spinel are sister gems, often found in the same geology. Their chemical composition is very close – sapphire is aluminum and oxygen; spinel has magnesium in addition to aluminum and oxygen. The gems are close in appearance, hardness is similar. They are both hard, tough, brilliant. Spinel seems to possess a wider range of colors in pastel shades. Very few jewelers in America are familiar with spinel.
The twin sister problem: exotic. Rare. Gems like these possess rare colors. Can we ever make a pair of matching earrings? No. Can we ever have one ring and the dad would like to get another identical ring for the other twin? In spinel, it cannot happen. The gems are similar and yet always different. If you saw a dusty rose pink, loved it, waited a week and someone bought it, can we make another ring to match? No! In some gems like aquamarine, amethyst, citrine, and blue topaz – yes. The diversity of color in spinel makes duplication impossible.
I consider colors that are in between pure colors, sophisticated colors and people who buy them to be far more interesting than the rest of the people in the room. A dusty rose color choice places you at the top of your class.
Sea Sense Ring
With a fresh breeze still holding and the hum of the wind through the rigging, the land left far behind and the open ocean before you. You have the Maine coast charts, compass, and sea sense to guide you.
One of The World's Prettiest Gems
That No One Knows About – Spinel
For three days, while Keith and I were on the Thai – Burma border searching for jade, Keith kept bringing up a group of gems he had seen the week before- a thousand carats of natural gems each around a carat in size. Spinel is an obscure, rare gem that is invisible, unspoken of, and rarely shown in jewelry stores anywhere in the world. This lack of interest worldwide seems to be universal. Spinel is a sister gem to sapphire. Spinel is hard, tough, bright, and brilliant with sophisticated colors slightly to the right of sapphire; mauve, gray, pink, orange, yellow, and selling for prices that would make anyone think it was still the 1950s. This gem was selling for prices less than the cost of cutting and yet no one was buying, except possibly the two crazy Americans in the city of Chanthaburi, Thailand, March 2017.
Keith said he had tried this gem in the past and he simply couldn't sell it, but he said this lot was so beautiful, "I want you to see it. You have to see it." An hour or two would go by and these thousand carats of gems would come up again. He said he wouldn't buy it but thought maybe I might be able to find a way to explain the allure of this forgotten gem to the general public. We continued to talk about it for three days. It almost felt like he was setting me up. But I know Keith, he's a straight shooter. When we got back to the city Keith tried to contact the lady that had the parcel of gems. Days went by, nothing. He called again and again, nothing. It was a week and we'd had no response.
Someone must have bought the entire lot Keith concluded. Then, on the next to the last day of my stay, she showed up. The gem paper was opened and before me were a thousand carats of gems. Over 900 individual gems in the most amazing array of colors I'd ever seen. I had no idea what I would do with them. I decided I simply had to have them. I went through and selected 200 of the best. Keith then offered to do a high grading review. He pulled a bunch out. I double checked his discards and agreed. I ended up with 90 of the most amazing collection of exotic gem colors I've ever acquired.
The next morning another lot of natural gem spinel arrived from a different source. It was Keith's turn now. He chose nearly a hundred gems. See our video of this same gem. You'll hear Keith in the background as the light plays across the surface.
I believe that someday the world will wake up to this gem, spinel. The world is still asleep. Anyone who chooses now will look like a brilliant early Apple, Microsoft, Google or Amazon investor. But don't consider this gem for its appreciation potential; consider it for its beauty, its rare exotic beauty.
About the Trade Wind Collection:
Where does inspiration come from? Where do the creative sparks for design begin? For Cross' new Trade Wind Jewelry Collection, we find ourselves drawn into the story of Captain John Henry Drew, from Gardiner, Maine. Born in 1834, he grew up the son of a Ship's Carver, and went to sea at the age of 15, eventually becoming Captain of a series of clipper ships, and traveling from New York to China and back home, when that voyage took more than seventeen months.
Instead of carving or knotting or other hobbies that were characteristic of sailors, this mostly self-educated man read books, memorized details from newspapers, and wrote about his journey—his literal and his inner journey. His hand-written and personally illustrated journals tell us of his longing for Maine, for his family, and for "making something of himself". He is very much like you and me, and it makes his story that much more compelling. He savors apples from home, as tasting better than apples from anywhere else. He imagines the scene he might see looking in the window at home, where his family sits, and he chastises himself for not getting more done at home when he was there.
The jewelry in our Trade Wind Collection is made by his great-great-great grandson, Keith. This young man went to sea as well, at age 18. As part of his service to the US Navy, his travels took him to many of the same places his great-great-great grandfather's clipper ships visited. Keith also had a hobby unconventional for sailors— he had a fascination for gems and he studied gemology. He studied so that when his service was completed, he could become a jeweler. As Keith traveled the world, he collected exquisite gems, and after leaving the service and returning home, he mastered the art of fine jewelry making.
It is now decades later. We met Keith for the first time in March, 2014. We were impressed with his jewelry, and as we talked further, discovered he had a clipper ship sea captain ancestor and became intrigued with the parallels of his journey in life with that of his sea captain forebear.
The parallels in the two stories are expressed in the jewelry itself—the exotic colors, the flow of the designs, the attention to detail which is something passed down in this family—whether it is to protect the ship, its cargo and its crew, or to create a design that will last and protect its valuable gems, giving the wearer the same pleasure we experience when a ship at full sail goes by. You can't help but stop and exclaim, "Isn't that beautiful?"
We were hooked by this story, and by the jewelry. We think you will be too. In fact, we're posting pages from Captain Drew's journals from the Voyage of the Franklin in 1868. Take a few minutes to join in the journey, and think of those you love most, and rejoice if they are right there with you.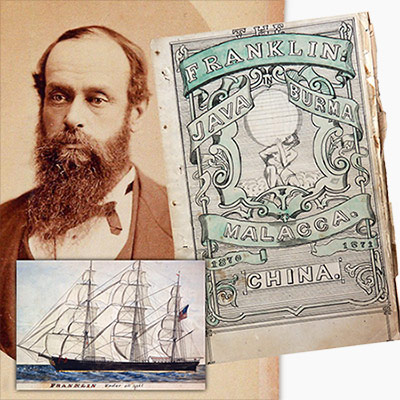 Read the Captain's
Clipper Ship Journal Entries