The Fog Horn
Green World Tourmaline
& Diamond Necklace
From Cross's Clipper Ship Trade Wind Collection
At age 10 we finally got a car, a station wagon with front and back seats, a Ford Fairlane station wagon, blue and white. Riding around in a station wagon instead of a panel truck I felt like a rich kid. There was a storm out to sea, not too far out. We had wind and rain and big waves on the shore. We pulled into Two Lights' Lobster Shack parking lot in our new car and because of the wind and warnings the lot was mostly empty. My dad and I went out in the rain. In seconds we were soaked, and climbed up to the fog horn – a low, squat, one story building. In 1959 this fog horn still had its low deep frequency, deep bellow sound that would blast a warning out to sea. It was so powerful I could feel the ground vibrate.
The color of the fog horn sound, its insistence saying we are the coast. We are the land, trees grow here and green grass too. Beware. Take your measure now. If you're on board a ship and surprised by the sound coming through the white haze you know land is beyond. You know you must reassess, must recalculate – because green land is somewhere beyond in the fog.
---
I'm sitting three stories above the land. The land is three stories above the sea. It's June 18, 2019. The sea is silver white. It blends seamlessly into a silver white sky. It's six thirty PM. I hear the fog horn from Portland Head, it's low, constant. In truth, I don't hear it. It's just part of the stage setting for coastal living. A hundred days every year the fog horn is there. I don't hear it, no one in my neighborhood hears it, but it's there. Maybe ten days I turn and notice and go right back to whatever I'm doing. It's just part of the stage setting. The air has a bit of a nip, moisture and density, a coolness. It's OK right now, but if it were 5° cooler I might put a sweater on if I were to go out.
This pendant is serious. It has a solid presence at the green coast. It says land, earth, sail carefully and you'll be fine. I just turned on the flashlight on my iPhone to light up this piece. It's dazzling, earthy, big, green, natural gem world tourmaline. Two diamonds top and bottom, five diamonds east and west. The piece says land and with my iPhone light on it looks like the top of a lighthouse. The big bail at the top is for a big chain to flow through.
This is a big lighthouse lover's, fog horn aficionado's voice saying in a big bold voice, "Land is near". It's a once in a lifetime piece. 18K Yellow Gold pendant medallion. You become the keeper of the light and the lord of the bold voice at the edge of the land. 20" 14K Yellow Gold wheat style chain. One piece, one chance, call on this great yellow-green world tourmaline.
---
June 18, 2019 at 6:30PM, I noticed the fog horn and a haze under the sea and sky that left its normal separation a seamless veil. It's now 7:46PM, the coast is socked in solid. The fog is thick, a dense cloud upon the land. The coast, the cliffs 300 feet away, its edge is almost invisible. So thick is the fog now that even the fog horn sound is fainter. I can't imagine being a captain on a ship 150 years ago with just a compass, and fog so thick light won't penetrate. A fog so thick even the fog horn is muffled.
It's 7:58, the coastal edge disappears and reappears. The fog is swallowing the land. Everything is cotton white.
Our Fog Horn Pendant with an emerald cut green World Tourmaline and 14 Diamonds in 18K Yellow Gold is a serious piece.
Important Disclosure: All tourmaline we sell is mined in Maine with the exception of a rare occasional gem which we always fully disclose. This is a 6.98 carat green tourmaline likely from Brazil (not Maine).

About the Trade Wind Collection:
Where does inspiration come from? Where do the creative sparks for design begin? For Cross' new Trade Wind Jewelry Collection, we find ourselves drawn into the story of Captain John Henry Drew, from Gardiner, Maine. Born in 1834, he grew up the son of a Ship's Carver, and went to sea at the age of 15, eventually becoming Captain of a series of clipper ships, and traveling from New York to China and back home, when that voyage took more than seventeen months.
Instead of carving or knotting or other hobbies that were characteristic of sailors, this mostly self-educated man read books, memorized details from newspapers, and wrote about his journey—his literal and his inner journey. His hand-written and personally illustrated journals tell us of his longing for Maine, for his family, and for "making something of himself". He is very much like you and me, and it makes his story that much more compelling. He savors apples from home, as tasting better than apples from anywhere else. He imagines the scene he might see looking in the window at home, where his family sits, and he chastises himself for not getting more done at home when he was there.
The jewelry in our Trade Wind Collection is made by his great-great-great grandson, Keith. This young man went to sea as well, at age 18. As part of his service to the US Navy, his travels took him to many of the same places his great-great-great grandfather's clipper ships visited. Keith also had a hobby unconventional for sailors— he had a fascination for gems and he studied gemology. He studied so that when his service was completed, he could become a jeweler. As Keith traveled the world, he collected exquisite gems, and after leaving the service and returning home, he mastered the art of fine jewelry making.
It is now decades later. We met Keith for the first time in March, 2014. We were impressed with his jewelry, and as we talked further, discovered he had a clipper ship sea captain ancestor and became intrigued with the parallels of his journey in life with that of his sea captain forebear.
The parallels in the two stories are expressed in the jewelry itself—the exotic colors, the flow of the designs, the attention to detail which is something passed down in this family—whether it is to protect the ship, its cargo and its crew, or to create a design that will last and protect its valuable gems, giving the wearer the same pleasure we experience when a ship at full sail goes by. You can't help but stop and exclaim, "Isn't that beautiful?"
We were hooked by this story, and by the jewelry. We think you will be too. In fact, we're posting pages from Captain Drew's journals from the Voyage of the Franklin in 1868. Take a few minutes to join in the journey, and think of those you love most, and rejoice if they are right there with you.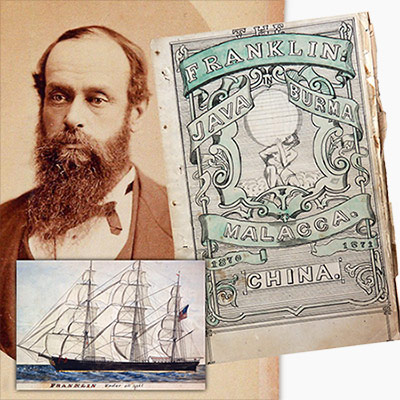 Read the Captain's
Clipper Ship Journal Entries