Echo Opal
& Diamond Earrings
From Cross's Clipper Ship Trade Wind Collection
Australian Opal
Opal was first found in Australia at Lightning Ridge in the late 1880s. The first shaft was dug for mining opal in 1902. The history of opal in Australia has followed closely the history of Cross Jewelers founded in Portland, Maine in 1908.
We love opals, we love their mystery, their magic and most of all we love the way colors drift and float into one another. Hold an opal under a light source. Move it ever so slightly and where you saw a flash of red suddenly there is green. Move ever so slightly more and blue-violet flickers in the gem. All the colors in opal are forever moving, as the sun rises, as you move throughout the day, your opal and its colors are forever changing.
Cross' Largest Collection of Australian Echo Opals
Echo Opal is one of our most interesting designs because of the resonant rims of gold that echo out from the center. Diamonds are positioned at compass points in the north, south, east, and west. Echo Opals reflect the flow of color energy. Something about the echo seems to please the eye. Everyone responds well to this design.
Australian Opal – Goldilocks Perfect
I'm sure when shopping for jewelry when you've seen something you're attracted to… you like it, you really like it – but then often it's just too big, too much gold, too much gem, too much money. It may even protrude out a little bit too much. You look, you wish it was just a little different. This is a "Goldilocks" perfect collection of fine Australian Opal, not too big, not too small – just right. On his last trip, Keith (of Trade Wind Collection fame) personally selected these Australian Opals. They are lovely. Opal is one of his favorite gems and it shows.
Echo Opal is called that for the ripples of gold that echo out from the center gem. In the north, south, east, and west positions are four brilliant accent diamonds. Again, not too big, not too small. Pendant nestles perfectly in that spot on the breast bone, at just that ideal eye-catching spot. Earrings are the same style. Pierced friction posts, they lie flat against the ear. Neat, trim look. Color of these opals is enchanting. The gold glows, the diamonds sparkle.
Echo Opal and the Farm Pond
When I was in high school I built a dam on my father's 40 acre farm. It was down in a valley, a ¼ acre farm pond. Surrounded by grassy hills on 3 sides, it had a sluice and spillway, and in spring and fall a constant water source with clear water flowing through. I kept a small boat on the pond and spent hours weekly in idyllic drift and float – reading a book, occasionally tossing a stick in the pond to watch the ripples echo out.
Here is my admission: I found more joy and fascination in the splash and waves from a plop in the water than any 16-17 year old should experience. Admission #2: echoes and ripples still fascinate me. That water can be a medium to allow this visible form of expanding radiant energy to echo out – is amazing.
Our Echo Opal earrings reflect that flow of energy. That it's an opal at the center with a splash of diamond north, south, east, and west – is all the more fascinating. All opals in our Echo Opal pieces are from Australia. Keith, of our Clipper Ship Trade Wind Jewelry fame, designed these pieces and selected the opals. His love of opals shows in every piece he creates.

About the Trade Wind Collection:
Where does inspiration come from? Where do the creative sparks for design begin? For Cross' new Trade Wind Jewelry Collection, we find ourselves drawn into the story of Captain John Henry Drew, from Gardiner, Maine. Born in 1834, he grew up the son of a Ship's Carver, and went to sea at the age of 15, eventually becoming Captain of a series of clipper ships, and traveling from New York to China and back home, when that voyage took more than seventeen months.
Instead of carving or knotting or other hobbies that were characteristic of sailors, this mostly self-educated man read books, memorized details from newspapers, and wrote about his journey—his literal and his inner journey. His hand-written and personally illustrated journals tell us of his longing for Maine, for his family, and for "making something of himself". He is very much like you and me, and it makes his story that much more compelling. He savors apples from home, as tasting better than apples from anywhere else. He imagines the scene he might see looking in the window at home, where his family sits, and he chastises himself for not getting more done at home when he was there.
The jewelry in our Trade Wind Collection is made by his great-great-great grandson, Keith. This young man went to sea as well, at age 18. As part of his service to the US Navy, his travels took him to many of the same places his great-great-great grandfather's clipper ships visited. Keith also had a hobby unconventional for sailors— he had a fascination for gems and he studied gemology. He studied so that when his service was completed, he could become a jeweler. As Keith traveled the world, he collected exquisite gems, and after leaving the service and returning home, he mastered the art of fine jewelry making.
It is now decades later. We met Keith for the first time in March, 2014. We were impressed with his jewelry, and as we talked further, discovered he had a clipper ship sea captain ancestor and became intrigued with the parallels of his journey in life with that of his sea captain forebear.
The parallels in the two stories are expressed in the jewelry itself—the exotic colors, the flow of the designs, the attention to detail which is something passed down in this family—whether it is to protect the ship, its cargo and its crew, or to create a design that will last and protect its valuable gems, giving the wearer the same pleasure we experience when a ship at full sail goes by. You can't help but stop and exclaim, "Isn't that beautiful?"
We were hooked by this story, and by the jewelry. We think you will be too. In fact, we're posting pages from Captain Drew's journals from the Voyage of the Franklin in 1868. Take a few minutes to join in the journey, and think of those you love most, and rejoice if they are right there with you.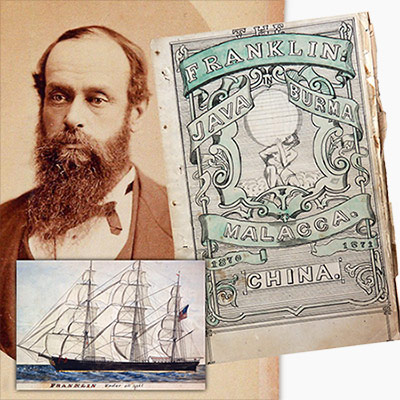 Read the Captain's
Clipper Ship Journal Entries