There Are Sunsets She Might Have Missed
Opal & Diamond Ring
From Cross's Clipper Ship Trade Wind Collection
You called her outside and said, "Come here you've got to see this." She said, "In a moment." She was finishing steaming vegetables and when she made it to the porch it was still pretty but you know only moments before it was breathtaking. The western sky was ablaze with color like you've never seen before.
The ring is best seen with the north side up. When you receive it you'll recognize immediately which way is up. Tilt the ring toward you, then away and suddenly the sky lights up. The colors are so beautiful the ring will call you back a dozen times a day to do the tilt. Colors so beautiful you can't memorize them. You must return to the ring to see it all again. Don't miss the sunset.
Australian Opal – Goldilocks Perfect
I'm sure when shopping for jewelry when you've seen something you're attracted to… you like it, you really like it – but then often it's just too big, too much gold, too much gem, too much money. It may even protrude out a little bit too much. You look, you wish it was just a little different. This is a "Goldilocks" perfect collection of fine Australian Opal, not too big, not too small – just right. On his last trip, Keith (of Trade Wind Collection fame) personally selected these Australian Opals. They are lovely. Opal is one of his favorite gems and it shows.
Keith's Passion for Australian Opal
Keith, of Clipper Ship Trade Wind Jewelry fame, hand selects individual opals from the opal fields of Australia, opals millions of years old. Pastel colors, gentle colors, sun softened colors, living inside gems, scattered pastels sprinkled confetti-like throughout. Colors frozen in time, gems cut, polished, and sorted then chosen by this Australian opal lover. He then designs, makes, and sets his treasures.
About the Trade Wind Collection:
Where does inspiration come from? Where do the creative sparks for design begin? For Cross' new Trade Wind Jewelry Collection, we find ourselves drawn into the story of Captain John Henry Drew, from Gardiner, Maine. Born in 1834, he grew up the son of a Ship's Carver, and went to sea at the age of 15, eventually becoming Captain of a series of clipper ships, and traveling from New York to China and back home, when that voyage took more than seventeen months.
Instead of carving or knotting or other hobbies that were characteristic of sailors, this mostly self-educated man read books, memorized details from newspapers, and wrote about his journey—his literal and his inner journey. His hand-written and personally illustrated journals tell us of his longing for Maine, for his family, and for "making something of himself". He is very much like you and me, and it makes his story that much more compelling. He savors apples from home, as tasting better than apples from anywhere else. He imagines the scene he might see looking in the window at home, where his family sits, and he chastises himself for not getting more done at home when he was there.
The jewelry in our Trade Wind Collection is made by his great-great-great grandson, Keith. This young man went to sea as well, at age 18. As part of his service to the US Navy, his travels took him to many of the same places his great-great-great grandfather's clipper ships visited. Keith also had a hobby unconventional for sailors— he had a fascination for gems and he studied gemology. He studied so that when his service was completed, he could become a jeweler. As Keith traveled the world, he collected exquisite gems, and after leaving the service and returning home, he mastered the art of fine jewelry making.
It is now decades later. We met Keith for the first time in March, 2014. We were impressed with his jewelry, and as we talked further, discovered he had a clipper ship sea captain ancestor and became intrigued with the parallels of his journey in life with that of his sea captain forebear.
The parallels in the two stories are expressed in the jewelry itself—the exotic colors, the flow of the designs, the attention to detail which is something passed down in this family—whether it is to protect the ship, its cargo and its crew, or to create a design that will last and protect its valuable gems, giving the wearer the same pleasure we experience when a ship at full sail goes by. You can't help but stop and exclaim, "Isn't that beautiful?"
We were hooked by this story, and by the jewelry. We think you will be too. In fact, we're posting pages from Captain Drew's journals from the Voyage of the Franklin in 1868. Take a few minutes to join in the journey, and think of those you love most, and rejoice if they are right there with you.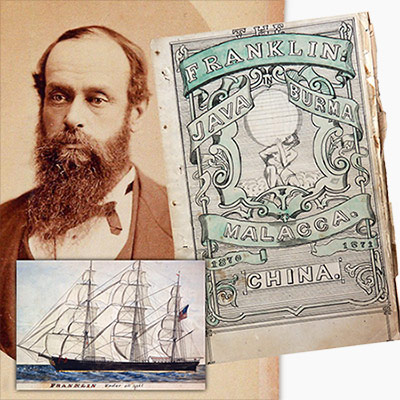 Read the Captain's
Clipper Ship Journal Entries