From Sea to Shining Sea
My Favorite
Trade Winds Ring – R.H.P.
I like blue. I like the ocean. I'm fascinated by the comings and goings of the tides. I'm mesmerized by the waves at the shore. I've watched the ocean all my life. Now, my fascination with blue doesn't make a bit of a difference relative to your decision to acquire a medium blue sapphire piece of jewelry. Except, a lighter blue sapphire is prettier and we hunt them down.
What I do know is everyone loves the sea. I've never met or seen anyone ever go to the sea shore and stand back to the open ocean. Everyone loves the sea…and almost everyone's favorite gem is blue sapphire. We work hard to find the best medium blue sapphires not dark inky blue, but bright, brilliant, open, airy, lively, sparkly blue sapphires. Sapphires that are beckoning you closer. Sapphires that are entreating you to look a second, and a third time; blue sapphires that are so pretty you can't look away.
Keith is the designer of From Sea to Shining Sea. He spent several years in the navy aboard a ship. He did not hold an illustrious position in the navy. He was crew. He sailed all over the world. He became intrigued with gems and bought gems he liked in the various ports he visited and began making jewelry. He taught himself fine jewelry design… His creations are low profile, solid, practical, wearable, durable, and always beautiful. He remembered crossing the Pacific and its long stretch of open ocean. His Sea to Shining Sea is an oval or round gem, almost always blue sapphire, then sparkling light on the water with graduated white diamonds down the sides. This is a ring of legend.
From Sea to Shining Sea
Blue Sapphire and Diamond Ring
The ring sits low, it's smooth to the touch and lies comfortably and naturally on the hand. Because the ring sits low, the gems Keith chooses can't be too big. He must figure maximum depth together with the length, width ratio to achieve the needle in a haystack perfect size gem, while achieving a spot on two shades lighter ideal sky-sea blue gem.
I like this ring. I think it's one of the prettiest lady's rings in the world today. On the hand, it looks awesome. I would ask Keith to make a dozen, but alas, the gems with all these specifications are just too rare.
The Secret to Selecting
The Best Blue Sapphires
The owner of Cross Jewelers shares his thoughts on blue sapphires, how he selects sapphires, and what makes our sapphire collection different from most other jewelers.
About the Trade Wind Collection:
Where does inspiration come from? Where do the creative sparks for design begin? For Cross' new Trade Wind Jewelry Collection, we find ourselves drawn into the story of Captain John Henry Drew, from Gardiner, Maine. Born in 1834, he grew up the son of a Ship's Carver, and went to sea at the age of 15, eventually becoming Captain of a series of clipper ships, and traveling from New York to China and back home, when that voyage took more than seventeen months.
Instead of carving or knotting or other hobbies that were characteristic of sailors, this mostly self-educated man read books, memorized details from newspapers, and wrote about his journey—his literal and his inner journey. His hand-written and personally illustrated journals tell us of his longing for Maine, for his family, and for "making something of himself". He is very much like you and me, and it makes his story that much more compelling. He savors apples from home, as tasting better than apples from anywhere else. He imagines the scene he might see looking in the window at home, where his family sits, and he chastises himself for not getting more done at home when he was there.
The jewelry in our Trade Wind Collection is made by his great-great-great grandson, Keith. This young man went to sea as well, at age 18. As part of his service to the US Navy, his travels took him to many of the same places his great-great-great grandfather's clipper ships visited. Keith also had a hobby unconventional for sailors— he had a fascination for gems and he studied gemology. He studied so that when his service was completed, he could become a jeweler. As Keith traveled the world, he collected exquisite gems, and after leaving the service and returning home, he mastered the art of fine jewelry making.
It is now decades later. We met Keith for the first time in March, 2014. We were impressed with his jewelry, and as we talked further, discovered he had a clipper ship sea captain ancestor and became intrigued with the parallels of his journey in life with that of his sea captain forebear.
The parallels in the two stories are expressed in the jewelry itself—the exotic colors, the flow of the designs, the attention to detail which is something passed down in this family—whether it is to protect the ship, its cargo and its crew, or to create a design that will last and protect its valuable gems, giving the wearer the same pleasure we experience when a ship at full sail goes by. You can't help but stop and exclaim, "Isn't that beautiful?"
We were hooked by this story, and by the jewelry. We think you will be too. In fact, we're posting pages from Captain Drew's journals from the Voyage of the Franklin in 1868. Take a few minutes to join in the journey, and think of those you love most, and rejoice if they are right there with you.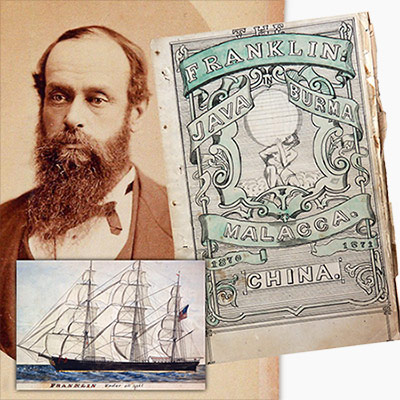 Read the Captain's
Clipper Ship Journal Entries