Orange Tree
Garnet & Diamond Ring
From Cross's Clipper Ship Trade Wind Collection
1954, age 4, Daytona Beach, Florida. Our apartment was on the second floor. My toy box was in front of small paned windows that cranked out to open. Outside the window was a combination orange/ grapefruit tree. I remember the morning Mom opened the right window, reached out, picked one grapefruit, and two oranges. I remember sitting at the Formica table, orange cut in half, cells sectioned, sugar sprinkled on top, small specks. I remember its sweet orange taste.
1970, age 20, Spring Break, a college friend and I drove to Florida. We stopped at an orange grove where they were picking oranges. Talked with a man up in a tree on a ladder with a normal width base and rungs that rose and narrowed to a point. I'd never seen a ladder like it. He offered to let me climb. I remember how close the branches were, green leaves everywhere and big oranges hanging. I picked several. On the ground he showed me how to peel an orange and pull the sections apart. I had never seen an orange peeled by hand.
1977, age 28, Spring. Visited my aunt who had just moved to Florida. She believed in adventure, wanted me to smell the orange juice factory after midnight. We talked all evening then headed out. It was a steamy spring night. Her northern car didn't have air conditioning. We rolled the windows down. This orange juice factory was at the edge of a residential neighborhood. As we approached she kept saying, "Do you smell it? Do you smell the oranges?" We parked beneath palm trees outside the gate, under a street light. The warm air was thick with the sweet taste/smell of oranges. Huge trucks rumbled into the factory all night. We sat for more than an hour drinking in the orange Florida air. By way of disclosure, I love orange juice. I have a glass every morning for breakfast. Breakfast can vary from cereal to scrambled eggs, regardless of the main fare, a glass of Florida orange juice is a must.
This ring looks just like the orange tree I climbed in 1970. The gem colors are intense orange spessartite garnet center, green tsavorite garnet sides, diamonds tapering out to the east and west. If you love Florida, if you love the taste of orange juice, if you love the colors of orange and green, consider this ring.
This is a fun, happy colors piece of jewelry.
The Gems
Spessartite garnet. Natural orange color from East Africa. Hard, tough, durable, high refractive index makes the gem bright and lively.
Tsavorite garnet. A natural green garnet originally found in the Tsavo National Park on the border between Tanzania and Kenya in Africa.
Diamonds. World sourced. Cut in Belgium. High white, well-cut, bright, brilliant.
The orange is to Florida what the lobster is to Maine.

About the Trade Wind Collection:
Where does inspiration come from? Where do the creative sparks for design begin? For Cross' new Trade Wind Jewelry Collection, we find ourselves drawn into the story of Captain John Henry Drew, from Gardiner, Maine. Born in 1834, he grew up the son of a Ship's Carver, and went to sea at the age of 15, eventually becoming Captain of a series of clipper ships, and traveling from New York to China and back home, when that voyage took more than seventeen months.
Instead of carving or knotting or other hobbies that were characteristic of sailors, this mostly self-educated man read books, memorized details from newspapers, and wrote about his journey—his literal and his inner journey. His hand-written and personally illustrated journals tell us of his longing for Maine, for his family, and for "making something of himself". He is very much like you and me, and it makes his story that much more compelling. He savors apples from home, as tasting better than apples from anywhere else. He imagines the scene he might see looking in the window at home, where his family sits, and he chastises himself for not getting more done at home when he was there.
The jewelry in our Trade Wind Collection is made by his great-great-great grandson, Keith. This young man went to sea as well, at age 18. As part of his service to the US Navy, his travels took him to many of the same places his great-great-great grandfather's clipper ships visited. Keith also had a hobby unconventional for sailors— he had a fascination for gems and he studied gemology. He studied so that when his service was completed, he could become a jeweler. As Keith traveled the world, he collected exquisite gems, and after leaving the service and returning home, he mastered the art of fine jewelry making.
It is now decades later. We met Keith for the first time in March, 2014. We were impressed with his jewelry, and as we talked further, discovered he had a clipper ship sea captain ancestor and became intrigued with the parallels of his journey in life with that of his sea captain forebear.
The parallels in the two stories are expressed in the jewelry itself—the exotic colors, the flow of the designs, the attention to detail which is something passed down in this family—whether it is to protect the ship, its cargo and its crew, or to create a design that will last and protect its valuable gems, giving the wearer the same pleasure we experience when a ship at full sail goes by. You can't help but stop and exclaim, "Isn't that beautiful?"
We were hooked by this story, and by the jewelry. We think you will be too. In fact, we're posting pages from Captain Drew's journals from the Voyage of the Franklin in 1868. Take a few minutes to join in the journey, and think of those you love most, and rejoice if they are right there with you.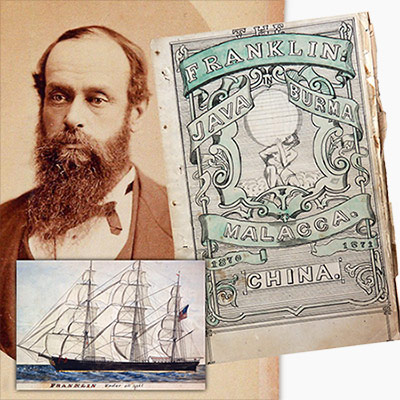 Read the Captain's
Clipper Ship Journal Entries