Rare Night Star
Reflected on the Sea
This doesn't happen often, but when it does… First star, brightest star of the evening (yes, I know it's Venus) and a smooth night sea, a glassy sea will catch and effect the light. There the star is in the sky above and there it is glistening on the sea below. Again, this is rare. But, truly, it's a type of magic. I imagine this reflection happens on a lake more easily. On the sea it's rare.
Sea Star is the proper name of a starfish with five arms. Our Sea Star is about a rare moment of magic. The blue sea sapphire center, a star (diamond) above, and a reflection below (another diamond).
This is a recent creation. As Keith prepared to show us this piece he said, "This is the new creation you asked for. You're going to love it." I did, we did, the staff really loves it. It's now a staff favorite.

The Size of Our Sea Star
one inch top to bottom
or 3/4-inch from top of fixed ring
at top to bottom
Fits on and American Quarter
The Gems
Blue sapphire – Blue sapphire usually comes from Southeast Asia. It's a color nature feels generous with in this part of the world. We love blue, particularly blue that shows well after the sun goes down. We tend toward a lighter brighter true blue color in all of our sapphire pieces.
Diamonds – world sourced, natural diamonds, cut in Belgium. Well cut with a full complement of 58 facets, rating a 3 on our quality cut scale. Nice white color, beautifully matched. Hardness 10 for ultimate durability.
The Behind the Scenes Story
Of the Creation of The Sea Star Design
I described what I thought I wanted. I said, "North and south, east and west with a diamond above, a diamond below, and oval blue sapphire in the middle." I didn't say which way. I imagined it would go north and south. Keith interpreted it his way and set the gem east to west. I'd told him Compass Rose was a perennial classic in our store, that it foretold destiny and guided souls on the path of life.

Two Months Later
Two months later, Keith called then shipped us two. When I saw them I was surprised because the sapphires went east-west. I was delighted because they were an unanticipated beauty. We photographed them both, put them up on our website. I was surprised that within 48 hours we sold both. This often happens when we send an email to our 16,000 followers; things sell quickly. Without an email, on our website with over a thousand fine jewelry pieces shown, it can take weeks for a great new item to be seen and to have someone claim it for their own. These first two necklaces went fast. We try to notice speed, and velocity, It's a clue. We immediately asked Keith to make five more with an intent to send an email this time.
I know when a new design is about to become a most loved piece of jewelry. It's when at first glance I see it and say, "I want it, and when is Nancy's next gift giving event?" First, it's beautiful in blue and gold and it's a perfectly poised compass rose in harmony. Second, it's almost a Christian Cross, arms east and west are 12mm, the north and south poles are 17mm. The bail loop at the top is free moving, the 18-inch chain slides freely through the loop.
The Blue Sapphire is a 7 x 5mm oval, it's a bright, light, brilliant blue. The diamonds are from Belgium, white, pure little stars. The sapphires are all bright brilliant gems.
This piece, more powerfully than any of our Compass Rose designs, has a positive sense of direction because the north-south line is the longer of the two. If asked, Keith would say I described to him exactly what to make. I would claim a genius stepped into the creation process and made a Goldilocks perfect design. Not too large, not too small…just right.

Checking the Night Sky
I swing the door open, push the screen door back, and step to the railing several times an evening to check the sea, the moon, and the stars. Every night I must know, every night year-round, summer or winter. Even on cloudy nights I step to the railing to see what can be seen at sea and in the sky above.
I call this my Sea Star necklace. A long oval blue sapphire, set horizontal east to west like the horizon, and two diamonds north and south – a star above and its reflection below. It's serious, solid, and brave. Wear this and you will always find your way home.
The Secret to Selecting
The Best Blue Sapphires
The owner of Cross Jewelers shares his thoughts on blue sapphires, how he selects sapphires, and what makes our sapphire collection different from most other jewelers.
About the Trade Wind Collection:
Where does inspiration come from? Where do the creative sparks for design begin? For Cross' new Trade Wind Jewelry Collection, we find ourselves drawn into the story of Captain John Henry Drew, from Gardiner, Maine. Born in 1834, he grew up the son of a Ship's Carver, and went to sea at the age of 15, eventually becoming Captain of a series of clipper ships, and traveling from New York to China and back home, when that voyage took more than seventeen months.
Instead of carving or knotting or other hobbies that were characteristic of sailors, this mostly self-educated man read books, memorized details from newspapers, and wrote about his journey—his literal and his inner journey. His hand-written and personally illustrated journals tell us of his longing for Maine, for his family, and for "making something of himself". He is very much like you and me, and it makes his story that much more compelling. He savors apples from home, as tasting better than apples from anywhere else. He imagines the scene he might see looking in the window at home, where his family sits, and he chastises himself for not getting more done at home when he was there.
The jewelry in our Trade Wind Collection is made by his great-great-great grandson, Keith. This young man went to sea as well, at age 18. As part of his service to the US Navy, his travels took him to many of the same places his great-great-great grandfather's clipper ships visited. Keith also had a hobby unconventional for sailors— he had a fascination for gems and he studied gemology. He studied so that when his service was completed, he could become a jeweler. As Keith traveled the world, he collected exquisite gems, and after leaving the service and returning home, he mastered the art of fine jewelry making.
It is now decades later. We met Keith for the first time in March, 2014. We were impressed with his jewelry, and as we talked further, discovered he had a clipper ship sea captain ancestor and became intrigued with the parallels of his journey in life with that of his sea captain forebear.
The parallels in the two stories are expressed in the jewelry itself—the exotic colors, the flow of the designs, the attention to detail which is something passed down in this family—whether it is to protect the ship, its cargo and its crew, or to create a design that will last and protect its valuable gems, giving the wearer the same pleasure we experience when a ship at full sail goes by. You can't help but stop and exclaim, "Isn't that beautiful?"
We were hooked by this story, and by the jewelry. We think you will be too. In fact, we're posting pages from Captain Drew's journals from the Voyage of the Franklin in 1868. Take a few minutes to join in the journey, and think of those you love most, and rejoice if they are right there with you.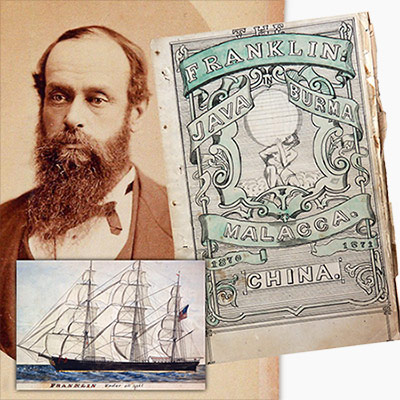 Read the Captain's
Clipper Ship Journal Entries