The Gull
Eureka Blue Maine Tourmaline
& Diamond Ring
From Cross's Clipper Ship Trade Wind Collection
Eureka Blue
Gems and jewelry of the Eureka Blue Tourmaline find are coming to an end. This is one of the last pieces of jewelry available from this historic discovery.
Eureka Blue tourmaline came to first light September 24, 2009 with the opening of gem pocket #1 on Plumbago Mountain, Newry, Maine. What quickly followed was the opening of a series of additional gem pockets yielding the rarest and most desirable of all colors of tourmaline…blue!
Eureka Blue is a unique shade of tealy blue-green tourmaline. It has been described as the color of the twilight sky at winter solstice. This find of winter teal gems is yielding some of the most sought-after cut and polished Maine tourmaline we have ever had the privilege to offer.
The Gull Ring
Gull's nest on the sheer cliffs of Whitehead on Monhegan Island. Standing at the top with an expanse of endless blue ocean beyond, where gulls glide on updrafts, it's a rare view on the coast of Maine…to be standing above flying gulls. This Gull ring has a Eureka Blue Maine Tourmaline center and 8 brilliant white diamonds on the outstretched wings. The ring feels as free as the gulls soaring above the cliffs.
The Gull is one of our classic Trade Wind designs. When we find a just right-gem it's often a candidate for The Gull. You'll love the understated simplicity of any gem we set into our Gull design.

About the Trade Wind Collection:
Where does inspiration come from? Where do the creative sparks for design begin? For Cross' new Trade Wind Jewelry Collection, we find ourselves drawn into the story of Captain John Henry Drew, from Gardiner, Maine. Born in 1834, he grew up the son of a Ship's Carver, and went to sea at the age of 15, eventually becoming Captain of a series of clipper ships, and traveling from New York to China and back home, when that voyage took more than seventeen months.
Instead of carving or knotting or other hobbies that were characteristic of sailors, this mostly self-educated man read books, memorized details from newspapers, and wrote about his journey—his literal and his inner journey. His hand-written and personally illustrated journals tell us of his longing for Maine, for his family, and for "making something of himself". He is very much like you and me, and it makes his story that much more compelling. He savors apples from home, as tasting better than apples from anywhere else. He imagines the scene he might see looking in the window at home, where his family sits, and he chastises himself for not getting more done at home when he was there.
The jewelry in our Trade Wind Collection is made by his great-great-great grandson, Keith. This young man went to sea as well, at age 18. As part of his service to the US Navy, his travels took him to many of the same places his great-great-great grandfather's clipper ships visited. Keith also had a hobby unconventional for sailors— he had a fascination for gems and he studied gemology. He studied so that when his service was completed, he could become a jeweler. As Keith traveled the world, he collected exquisite gems, and after leaving the service and returning home, he mastered the art of fine jewelry making.
It is now decades later. We met Keith for the first time in March, 2014. We were impressed with his jewelry, and as we talked further, discovered he had a clipper ship sea captain ancestor and became intrigued with the parallels of his journey in life with that of his sea captain forebear.
The parallels in the two stories are expressed in the jewelry itself—the exotic colors, the flow of the designs, the attention to detail which is something passed down in this family—whether it is to protect the ship, its cargo and its crew, or to create a design that will last and protect its valuable gems, giving the wearer the same pleasure we experience when a ship at full sail goes by. You can't help but stop and exclaim, "Isn't that beautiful?"
We were hooked by this story, and by the jewelry. We think you will be too. In fact, we're posting pages from Captain Drew's journals from the Voyage of the Franklin in 1868. Take a few minutes to join in the journey, and think of those you love most, and rejoice if they are right there with you.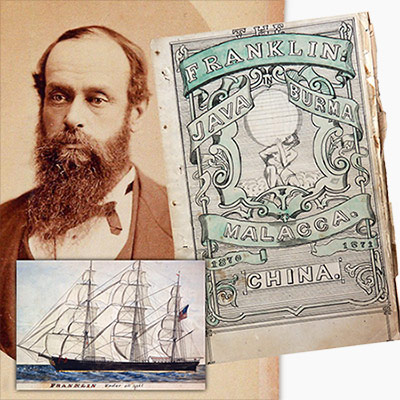 Read the Captain's
Clipper Ship Journal Entries